Welcome to the OFFICIAL Holiday Gift Guide by PLURTHLINGS for RAVERS, ARTISTS, and CREATIVE people. This guide is also useful to any family or friends of such awesome individuals. Whether you produce music or love to listen, this is a great list for anyone who needs an awesome gift!
To start out our Holiday Gift Guide this year, we actually want to give YOU a gift that took us over 10 years to make ... Our Entire Music Discography
Right now you can listen to all 10 Unreleased and Exclusive PLURTHLINGS albums while you read the rest of this gift guide. We put all of our best songs together to create a 10 Day Countdown of our dance music albums. We're doing this as a way to announce our crowdfunding campaign to bring these albums to life and so much more.
Click here to get all the details.
Second, we're hosting a Black Friday Sale in our store this weekend. We've automatically applied 10% OFF in the shopping cart for everything! This means you'll get 10% OFF on our comfortable hoodies, joggers, and matching face masks, or your choice of a neck gaiter instead.
The best part? You'll be supporting our small business located just outside Denver, Colorado. When you support our independent record label and comfy rave fashion store, you're also supporting our crowdfunding campaign.
Click here to shop our merch store.
Don't miss out on this hot holiday discount! 10% OFF won't last forever! And remember, all orders over $99 Get FREE Shipping :)
Next, make sure you sign up for our upcoming crowdfunding campaign where we're going to be launching the world's first multiplayer music festival video game!
It's still in pre-development; however, rest assured this is going to be one of the hottest Holiday presents a year or two from now. Help us make it happen faster by signing up and showing your interest ... make sure to tell all your friends and family who love rave music and video games!
Click Here to Sign Up at PLURTH.org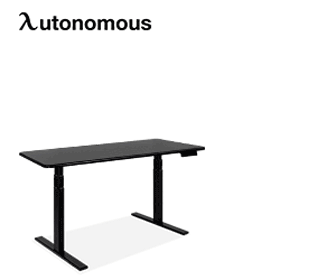 Now, back to some great holiday gifts that we recommend. These are mostly gifts that we've given to friends and family, or that we've received before. Anyone can appreciate these, especially the Autonomous Stand-Up Desk ... this piece of furniture is an all-day obsession. I literally am standing at mine right now as I type this up.
Because the sleek style is matched by its user-friendliness. You've never really appreciated a desk until you've been able to stand up or sit down at one by the push of a button. It's so nice to stand when you get anxious, so you can bounce around while you work. But towards the end of the day, you can power through the rest of your work sitting down.
This is an excellent gift for anyone who uses a computer all the time, or even half the time.
If you don't have a vinyl record player yet ... then this is your chance! Every household needs one of these because it's just cooler than not. Plus, you can finally start that vinyl collection you've always wanted.
I got one of these for my best friend's birthday gift a couple of months ago and it really impressed him! You really can't go wrong with this as a gift for anyone who loves music.
If the person you're gift searching for is more than just a casual listener of dope vinyl records ... well then, you might also need to get them this modern classic, professional-grade, DJ mixer from Pioneer. The DJM-900 Nexus will always be a MUST-HAVE for anyone who produces and DJs electronic music. Best to pair these with CDJS, but there are too many options of those to list. Having the mixer is way more important than the turntables, but this is definitely a premium gift.
Anyone who is an artist, an influencer, an entrepreneur, or a business owner needs this book ... and you can get it for FREE plus the price of shipping. I've personally read this book and it can really help you out. Russell Brunson is a genius when it comes to marketing yourself online. Expert Secrets is a simplified and easy to understand way of building your brand and finding people who will be lifelong fans.
So the last couple of gifts are books that we've all read and loved here at PLURTH. This one has a special place in our hearts since we are huge Cirque du Soleil fans. But this book isn't just about that unique Canadian entertainment company, it's a message. Follow your creative spark, no matter what. You'll never know where it will lead you.
The Spark is a book that I read over a decade ago that really sparked my inner journey into becoming an EDM producer and entrepreneur. This is a perfect gift for someone who is trying to figure out who they really are and what they are here to do ... but maybe they're tired of the same old "motivational" book. This message is perfectly wrapped into a fictional story of leveling up.
This book is even wilder than the last ... and this one is non-fiction! It's the self-biography of none-other than Sir Richard Branson, founder of the Virgin Companies. Yes, that Virgin Atlantic Airlines and Virgin Record Megastore company. Yes, the billionaire adventurer that has flown a hot-air balloon across the planet multiple times.
Why should you read Losing My Virginity or get this book for someone you love? Because it shows that literally, anyone can be as successful as Richard Branson as long as they put the time into having fun while working hard. You get a first-class seat to Branson's life as he reveals how a poor country boy became a billionaire by just following his heart.
I've read this book several times and it never gets old.
These two books were gifted to me by my best friends and they've already changed my life for the better. They can really help anyone stop doubting that they can be great and start living a better life immediately. I love Sincero's take on the "self-help" book because she is REAL! There is no sugar-coating and it's amazing to read something on our generation's level.
You are a Badass is already a classic in my collection.
The last two books on this gift guide list are for anybody who would like to work only 4-hours per week and only work on their ripped, healthy bodies for 4-hours per month. Seriously. I love these books, by super-Lifehacker turned author, Tim Ferriss.
The 4-Hour Workweek helped me stop getting distracted and start maximizing my time. I need to read this one again! This book is super crucial for anyone who is working remotely during this quarantine lockdown.
Actually ... both of these books would be excellent for someone working and living remotely. Because this book is ESSENTIAL if you can't get to the gym lately and can only workout at home.
While first attempting the slow-carb diet laid out in The 4-Hour Body, I actually lost 25 lbs in about 1.5 months! I've been able to keep that weight for almost 2 years now as I've totally been lazy about it while building this website ... Soon I'm going to attempt the next phase of this process, which is actually using it to gain muscle and get ripped too.
AWESOME! Well, I hope you enjoyed our PLURTHLINGS Holiday Gift Guide 2020. Please let me know what you thought in the comments, or if you have any additional suggestions.
Wishing you the best holiday season EVER!
- Monsoon of PLURTHLINGS
Have you signed up for a FREE Team Account yet? If not, click the button below and get started today. We'll see you on the other side!
Join PLURTH Now!